STORE CONCEPT
Adding Beauty and Comfort to Your Time of Creativity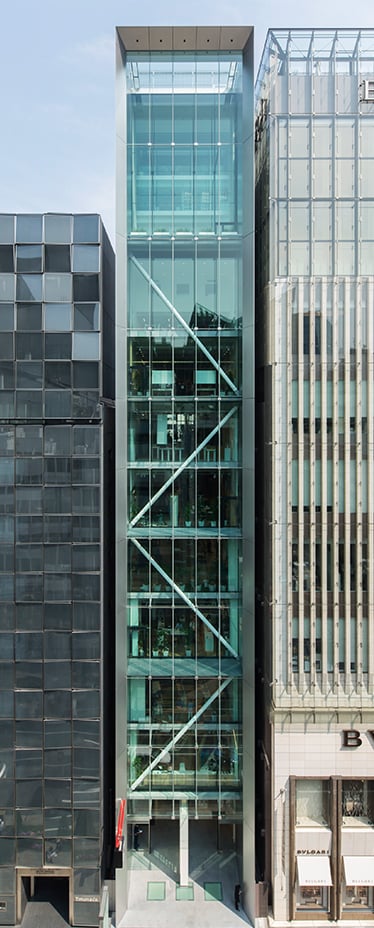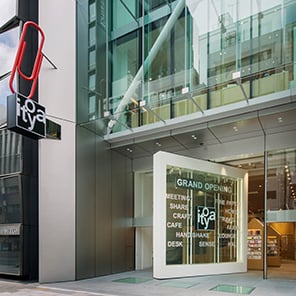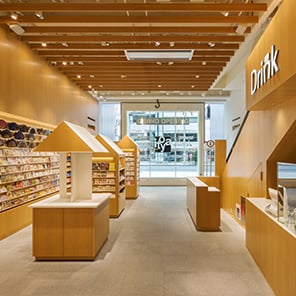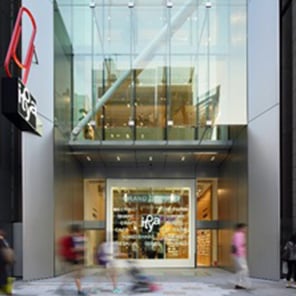 We believe that an optimal environment and aesthetically beautiful tools will help to enrich your time of creativity—when working, learning or playing, at a moment of inspiration or when organizing your thoughts, or in an attempt to convey something—and this will lead, in turn, to another cycle of creativity. Our aim is to offer products and provide a space that can make this creative cycle more beautiful and comfortable.
Corporate Identities & Concept
Corporate Identities
Our mission: Adding beauty and comfort to your time of creativity
What we value: Discovering new tangible and intangible things that can last for decades. Valuing personal relationships.
The world we aim for
"A store that brings smiles, inspiration, and comfort to its customers whenever they visit"
A place where people can spend their leisure time
A place where people can refresh their mind
By visiting Itoya, you can discover things you hadn't noticed before and encounter grander possibilities without losing your sense of self. Your spirit will be refreshed and this will lead you in a new direction. This comfortable space and time is the world we are aiming to bring about.
The Founder's Aspiration—Katsutaro and the Story He Pictured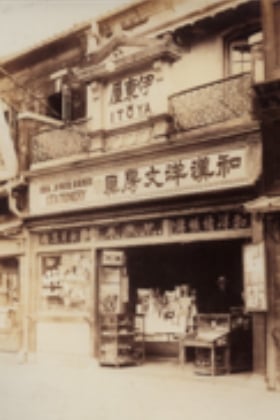 In 1904, the history of Itoya began when the ever curious founder—Katsutaro Ito—first encountered items of stationery. Stationeries were just arriving in Japan at a time of great change. Wanting to introduce these stationeries to as many Japanese as possible, Katsutaro came upon the idea of opening a store in Ginza—then an up-and-coming part of Tokyo—and, through stationeries, of bringing in the efficient working style of the West which would increase the future potential of the Japanese. Since then, his curiosity has been inherited by us at Itoya where we continuously discover and offer ideas and tools that bring ease to one's life, especially your creative life, as well as "new value one step ahead of the times".
History of Itoya
1904

Itoya was established.
Founder Katsutaro Ito opened the Itoya Stationery Store of "the East and the West" in Ginza-sanchome.
1906

Publication of the first Itoya Catalog (issued annually until 1919)
1909

Store renovation to a three-story-building (to a novel mode of construction using white bricks)
1922

Katsutaro took his first observation trip to Europe and America (around the world for seven months)
1923

The Great Kanto Earthquake struck and the original store was destroyed by fire. Business was restarted at the Marunouchi shop.
1930

Completion of the new store building (an eight-story building with two basement floors in a new renaissance style, an area of 4950 square meters)
Senbikiya Fruits Parlor moved into the first basement level, and Aguri Yoshiyuki Beauty Salon and Tatsuo Kumagai Portrait Studio moved in to the seventh floor.
1944

Business closed (due to a deficiency of supply). A business closing ceremony was held at the Imperial Hotel to show the store's gratitude towards its customers.
1950

Business restarted on the first floor.
1952

New store opened (relocation to Ginza-nichome)
1953

"Merci Coupon" was introduced. *The system ended in 2010 as the "Merci Card" was introduced instead.
1954

"Itoya Design", the site for product development, was established in Egota, Nakano-ward.
1965

Completion of Ginza flagship store (the Main Store)/the main building (The Second Itoya Building/a stainless-steel building)
1975

Opening of Itoya's first branch store (Shibuya)
1976

"Itoya of America" was established (Los Angeles, USA)
1985

Inauguration of Head Office; Itoya Building. ITO-YA 2 opened (Ginza-nichome). *Current K.Itoya
1987

The "Red Clip" was created as the corporate symbol.
1988

The Red Clip was awarded as the grand winner of the "Tokyo Metropolitan Governor Prize" for the Tokyo Outdoor Billboard Contest.
The Red Clip won first place of the SDA Award for the compact signage competition by the Japan Sign Design Association.
1992

ITO-YA3 opened (Ginza-nichome). *Currently closed
2000

Romeo opened (in IKSPIARI, Maihama) *Closed in January, 2002.
2004

Anniversary of 100th year of the store's founding.
Papiearium Hiroo Store opened. *Later migrated into the Ginza Itoya Main Store.
E-store opened to start E-commerce.
2007

Introduction of the Itoya Gift Card
2008

Introduction of the Merci Card
2009

A new concept for a small business "topdrawer" was opened for the first time (Tokyo Midtown)
Caran d'Ache flagship store opened (Marunouchi). *relocated to Ginza in June, 2015
the Pen Care Room opened in the Main Store on the second floor mezzanine.
2010

Itoya's first airport shop opened (Haneda Airport International Passenger Terminal)
2011

Itoya TimeValue Ltd. was established (as an independent marketing division for the distribution of original products in Japan and overseas).
Itoya with United Arrows opened (Hankyu Men's Tokyo) *Closed in August, 2015
2012

Tully's Coffee with Itoya opened (Keikyu Yokohama Station)
"topdrawer"s first store in North America opened (Union Street, San Francisco)
The Third Itoya Building was renovated into a store building entirely, and it was opened as K. ITOYA (Ginza-nichome).
2014

Itoya by TOMIYA opened (Omotecho Style Store, Okayama)
2015

Renovation for G.Itoya building completed. Grand opening of Ginza Itoya Flagship Store.
2016

Merci app services started
G.Itoya building received Good Design Award 2016
2018

Ginza Itoya Yokohama Motomachi Store opened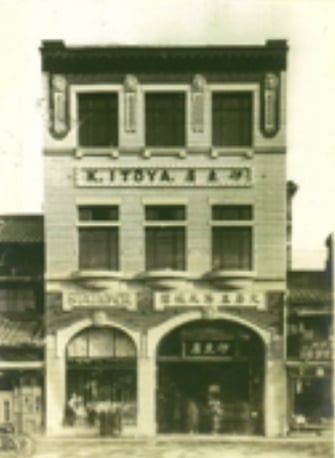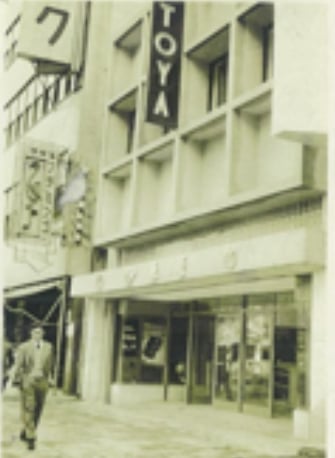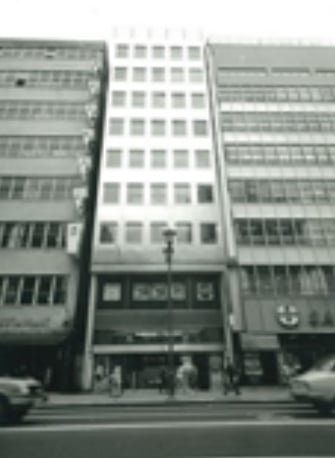 Lines of Business
Ginza Itoya
At Ginza Itoya, in order to fully support working people, we aim to provide not only the purchasing experience but also an environment where people feel comfortable and services which are only available at the real-store.
Main Store
Our flagship store consists of two buildings and a total of 18 floors with fourteen themed selling spaces and pop-up events called "Tools for work".
Also, there is a business lounge(HandShake Lounge) and a hall for events(Inspiration Hall), as well as a cafe & restaurant(CAFE Stylo); an indoor vegetable factory(FARM); a juice bar(Drink)—showing that we also care about health.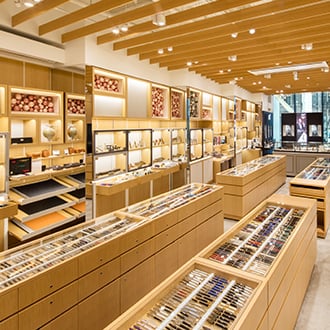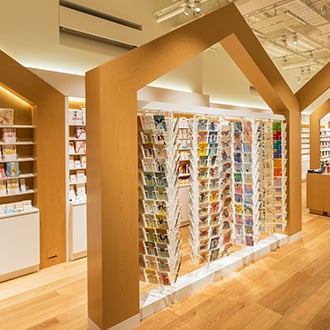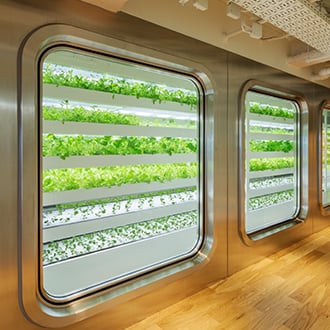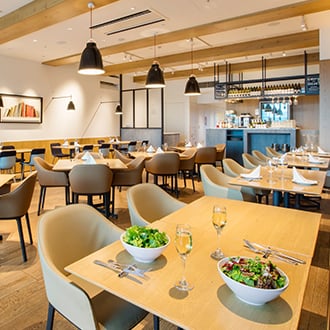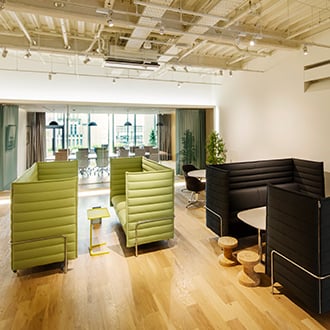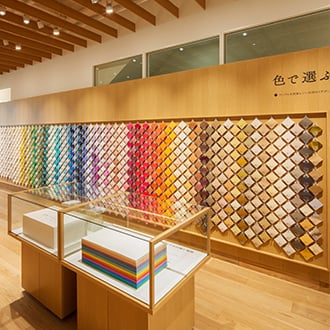 Yokohama Motomachi
A street-level store of a 3-storey building. We aim to create a store in which customers can gain inspiration by having fun with stationeries carefully selected from Japan and from overseas, as well as through our bespoke services.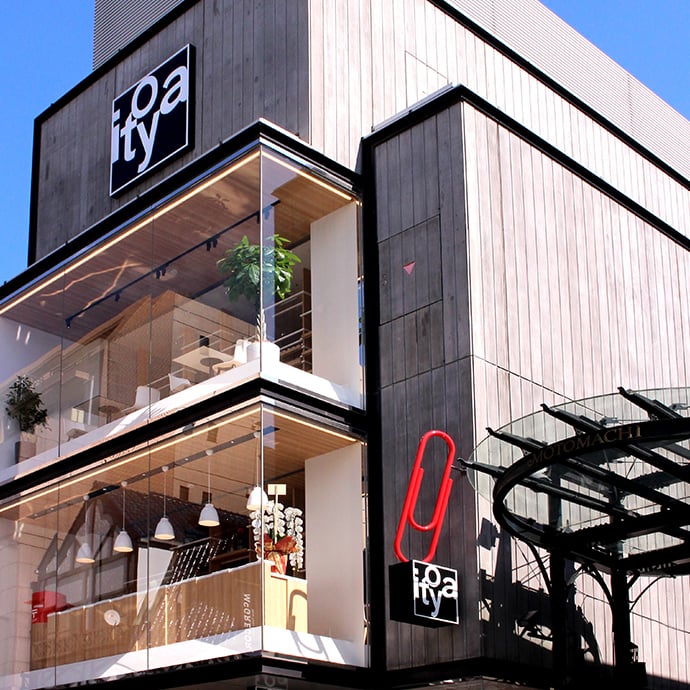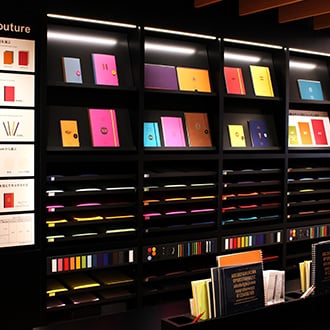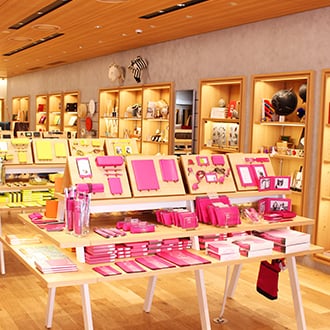 Itoya
Our large-scale branch stores assist in categories such as "Gifts" and "Writing" by offering special writing instruments, greeting items, and stationeries for everyday use. The stores are conveniently located close to stations and aim to enrich our customers' lives (7 stores).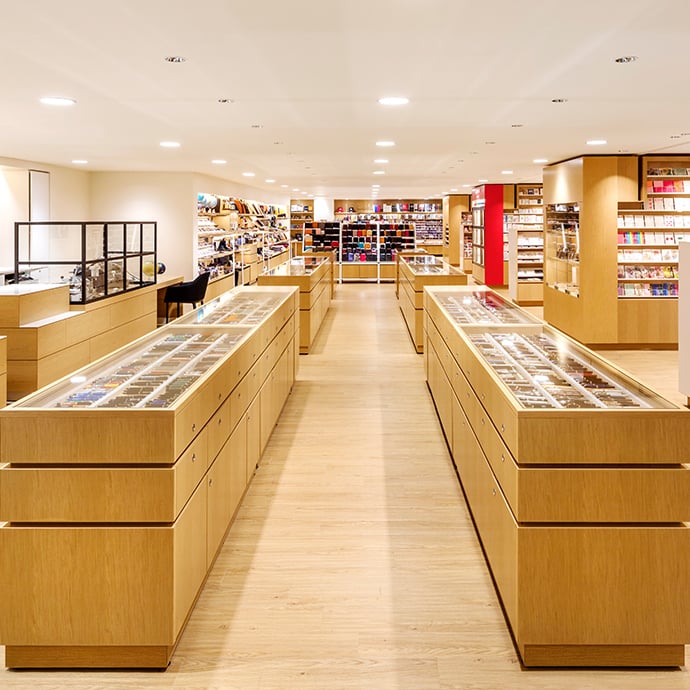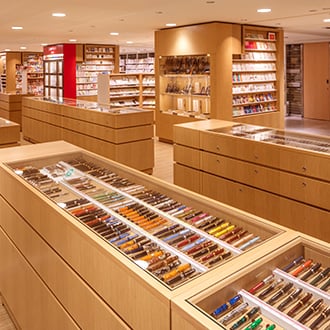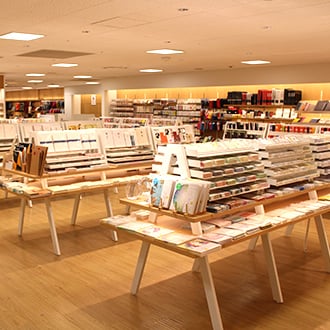 Airport stores
Airport stores connect stationeries made in Japan to the world. We have selections of "Japan's best"; "Japan's latest stationeries" incorporating traditional Japanese stationeries and Good Design stationeries that are highly functional (2 stores).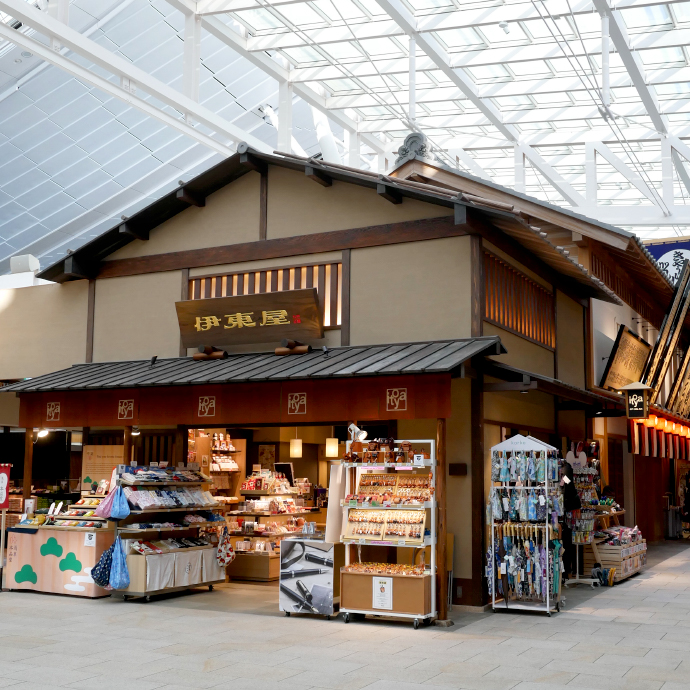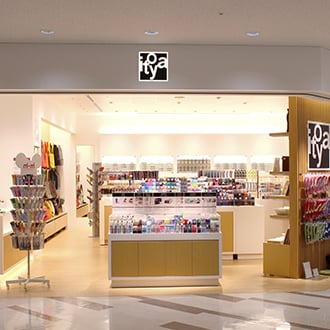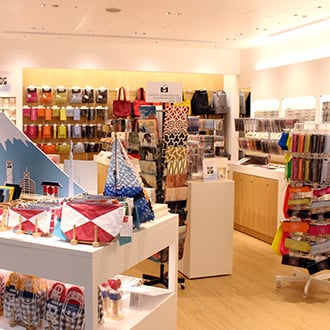 Online store
※Itoya Online store website is only available in Japanese language.
Also we do not ship internationally.
Thank you for your understanding.
Original Products and Services
Our commitment to Good Design
Our merchandise from Japan and overseas are purchased, and our original products are developed based on the value of "use and cherish things to one's liking for as long as possible", "cherish things of good taste for a long time", and "to use with care for a long time, make no purchases with compromise".
And to fulfill our value, we always ask ourselves "does it meet the quality of Good Design?".
[Our concept of "Good Design"]
Universality that does not become obsolete in time
Simple forms that fulfill their purpose with minimum design elements such as lines and planes
Use of colors that can bring good spirits and a sense of purpose to the owner
Original Products
We develop our own product lines with designs that one will never get tired of by adding something extra, allowing its owner to make combinations of colors as wells as functions according to business occasions or context of usage.
COLOR CHART

Sophisticated and colorful leather items that add light to various occasions in one's life. The products are in variations of materials such as leather, ultra-microfiber material , and cotton.

Contrail

Tools that are essential in commuting, business trips, and on the go.

ROMEO

The heritage of the original ROMEO fountain pen, launched in 1914, was revived as a new brand of writing instruments and peripheral items in 2009.

Helvetica

A standard series focusing on functionality with simple and timeless design for deskwork occasions.
Services
We offer bespoke services so that you can customize your creative tools to your liking or personalize a gift through processes of customization. Repair services are also available so you can continue to use your valuable instruments. Please feel free to contact any of our stores for more details.
Company Overview
Lines of Business
Retail business

Retail shops for stationeries and lifestyle goods (online and brick-and-mortar stores)
Restaurant business

Operation of a restaurant (cafe & restaurant, juice bar)
Event space business

Rental space provider (business lounge, hall for events)
Sales to Corporate Customers

Corporate novelties, product planning and production
Wholesale

Distribution of original products and directly imported goods in Japan, and exports.*Major overseas customer : National Book Store(Philippines),Kingstone Bookstore (Taiwan), Hot Tracks(South Korea),Open House(Thailand)
Company OverviewITO-YA LTD.
| | |
| --- | --- |
| Address | 2-7-15, ginza, Chuo-ku, Tokyo 104-0061 JAPAN |
| Tel | +81-3-3561-8311 |
| Representative | Akira Ito, President |
| Established | June 16, 1904 |
| Capital | JPY 100 million |
| Number of employees | 605 |
| Main Office | 2-7-15, Ginza, Chuo-ku,Tokyo, 104-0061, Japan |